This easy 5-ingredient Mango smoothie to refreshing summer with the most delicious creamy texture and is 100% dairy-free for a simple cold mango drink.
What Is Mango Smoothie?
Mango smoothies are classically made with dairy products such as milk and Greek yogurt.
As a result, the classic recipe is not dairy-free or vegan-friendly.
Our take on the Mango Smoothie uses only plant-based ingredients for a delicious vegan summer refresher.
How To Make Mango Smoothie
Making Mango Smoothie is super easy and you only need to use a blender. No need for a centrifuge or electric juicer.
Ingredients
Making The Mango Smoothie
Like other smoothie recipes, this mango smoothie is super straightforward to make.
All it takes is a blender and two minutes of your time.
Combine all the ingredients in the jug of a high-speed blender and blend for about a minute.
You can adjust the consistency of your mango smoothie by adding more mango or bananas if you want to make it thicker.
Alternatively, add more coconut milk to make it thinner.
Add-Ons
If you want to supercharge your mango smoothie, consider adding the following to the blender:
Vanilla Seeds – I highly recommended vanilla pods for a boost of flavor.
Ice Cubes – for a frothier texture or if you have fresh fruits.
Maple Syrup – or any sweetener you love to boost sweetness. Avoid honey as it's not vegan.
Protein Powder – If you're drinking this after a workout, you can pour a scoop of a mild-flavored plant-based protein powder such as vanilla peanut protein.
Serving
This healthy drink is best served with some toppings floating in the glass.
I love adding the following:
Coconut Flakes
Fresh Mango Cubes
Mint Leaves
Frequently Asked Questions
Is This Mango Smoothie Vegan?
Yes, this mango smoothie is made with 100% dairy-free and vegan ingredients.
How Many Mangoes Make One Cup
One cup of mangoes weighs about 165 grams, which is conveniently about the weight of a whole mango without the peel and pit.
What Is The Best Mango To Use For Smoothies?
The very best variety of mango for eating and smoothies are the Alphonso Mangos. You can buy them when they're in season, cut them, and store the chunks in the freezer.
What Are The Benefits Of Mango?
Mango is a nutrient-rich fruit that may contribute to preventing diabetes, boosting the immune system, improving digestion, and it may even lower the risk of certain cancers (*).
Can I Turn It Into A Fruit Smoothie?
Yes, you can add other fruits to the blender such as raspberries or strawberries to make a strawberry mango smoothie.
Should I Use Fresh Mangos Or Frozen Mangos For Mango Smoothie?
It's always better to eat fresh fruit than anything processed so the best option is to freeze your own freshly-cut mangos after removing the pit.
Alternatively, you can use fresh mango flesh with ice cubes, or frozen mangos.
What Fruit Goes Well With Mango?
Other tropical fruits are the best match to mango: banana, pineapple, kiwi, and dragon fruit but also strawberry, orange, and raspberry.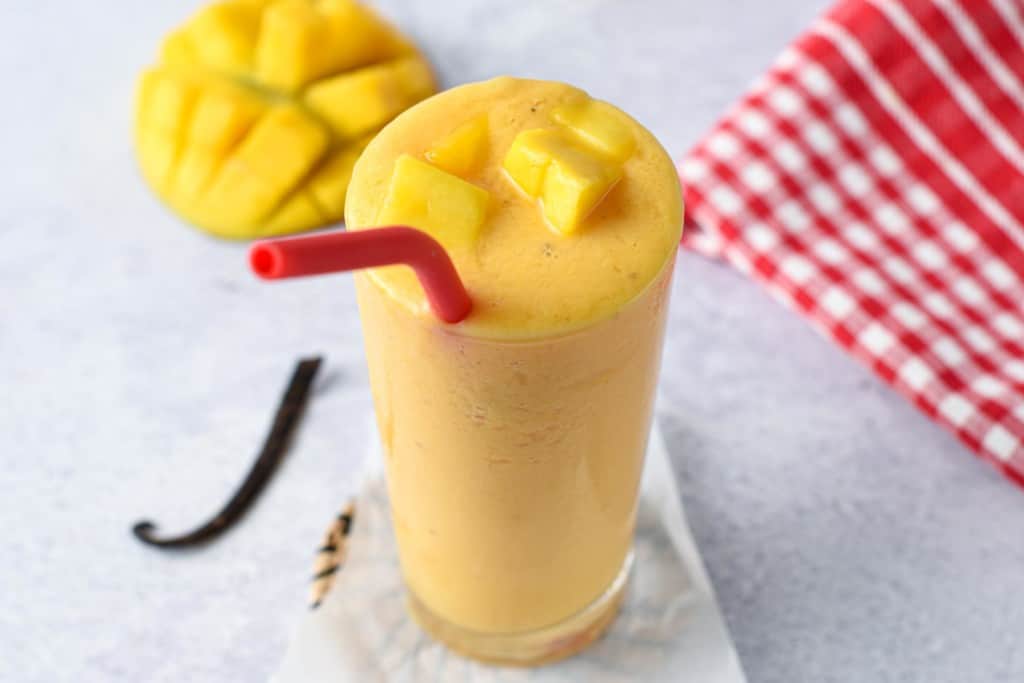 More Mango Recipes
If you like simple, easy recipes with mango, you'll love these:
Mango Smoothie
Instructions
Add all ingredients to the jug of a blender and blend on high speed until creamy and smooth.

Add ice cubes for a frothier texture or more milk to thin out. Boost the sweetness by adding liquid sweetener.
Share on Facebook
Pin Recipe
Nutrition
Serving:
1
smoothie
|
Calories:
220.5
kcal
|
Carbohydrates:
46.7
g
|
Protein:
2.7
g
|
Fat:
4.4
g
|
Saturated Fat:
0.2
g
|
Polyunsaturated Fat:
0.9
g
|
Monounsaturated Fat:
1
g
|
Sodium:
183.3
mg
|
Potassium:
485.2
mg
|
Fiber:
4.4
g
|
Sugar:
37.3
g
|
Vitamin A:
1818.2
IU
|
Vitamin B12:
1.4
µg
|
Vitamin C:
68.3
mg
|
Vitamin D:
2.2
µg
|
Calcium:
598.5
mg
|
Iron:
1.1
mg
|
Magnesium:
38.3
mg
|
Phosphorus:
35
mg
|
Zinc:
0.3
mg