15+ Vegan Breakfast for Kids packed with Nutrients
It's easier than you think to start your morning with a complete, nutritious vegan breakfast for kids. Below, I listed some quick, healthy breakfast ideas for vegan kids to eat before school, including some easy, healthy breakfast recipes for vegan kids.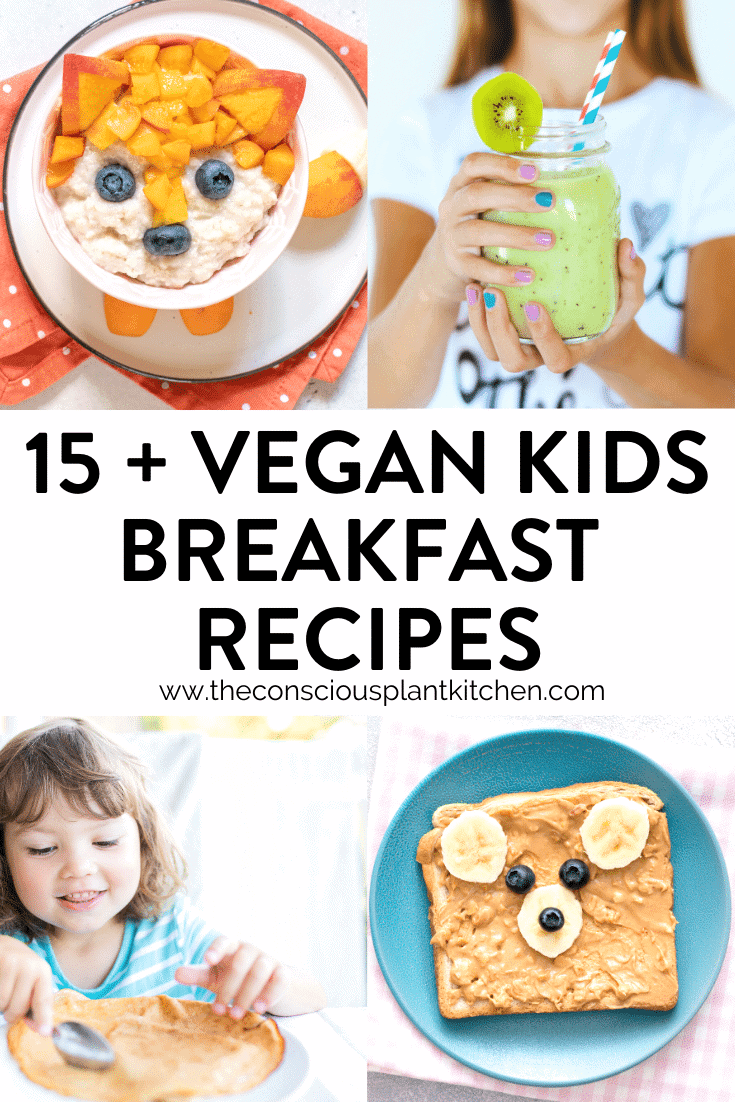 What makes a healthy breakfast for kids?
Vegan or not, a healthy kids' breakfast should contain at least 4 of the basic food groups below. They provide energy for the body of kids and toddlers and help us thrive through the day.
A healthy breakfast for kids on school mornings should contain:
Protein – they keep kids' tummy full and feed their muscles. Vegan protein sources for kids' breakfasts come from soy milk, fortified cereal, whole grain bread, beans, peanut butter, and seeds.
Fruits – any fruit can be offered in a kid's breakfast, preferably fresh or frozen, not in juice. Fresh fruits contain more fiber, which slows down the absorption of sugar and keeps your kid's energy level up throughout the day. It also fills their belly even more as fiber swells in the stomach, providing a fulfilling sensation.
Vegetables – raw or cooked vegetables add fiber nutrients. If your kids don't like vegetables for breakfast, try sneaking them into their food by making sweet potato pancakes or spinach banana muffins.
Wholegrains – wholegrains are slow-carbohydrates, which means carbs that contain lots of fiber to release glucose slowly into the bloodstream and keep the keep energy steady through the morning. It's essential to offer whole grain cereals or wholemeal bread to kids with at least 3g of fiber per 100 grams to keep them full and energized for long periods.
Calcium – this is an important nutrient in growing kids, and you can offer calcium in many different ways to vegan kids. Look for fortified non-dairy milk. Soy milk is not the only milk fortified with calcium; many almond milks are too. Other calcium sources for kids are soy yogurt, fortified cereals, or pumpkin seeds.
Why should kids get breakfast in the morning?
When you wake up, your body has been fasting for about 12 hours, and it needs glucose to make the legs run, the brain think clearly, and be happy.
It's proven that kids who eat breakfast in the morning don't lack important nutrients and maintain a healthy weight. That's why skipping breakfast is not recommended before a long day at school.
#1 – Oatmeal
This is the easiest vegan breakfast for kids. Combine the following ingredients in a microwave-safe bowl:
1/4 cup quick-cooking
1/2 cup water or protein-fortified non-dairy milk of choice.
Then, microwave the bowl for 1 minute until the porridge is hot and creamy. Then, stir in 1/4 cup of frozen blueberries or frozen raspberries, sweetened with maple syrup or stevia, and top with pumpkin seeds, dried fruits, or nut butter for extra proteins.
#2 – Vegan breakfast muffins for kids
Vegan breakfast muffins are easy healthy kids breakfast because you can make them ahead, freeze and serve them all week long.
Plus, you can easily create a range of muffin flavors, adding or swapping one ingredient for the other.
Try some of the oatmeal muffin recipes below for a kid-friendly vegan breakfast:
#3 – Whole-wheat toasts and nut butter
The simplest kid breakfast ever is toast. But to make healthy breakfast toasts for kids, make sure you choose some of the following:
Wholemeal bread with at least 3g of fiber per 100g to add fulfilling fiber to your kid's breakfast. Some also contain complete proteins like quinoa or buckwheat.
Protein spread – including nut butter like peanut butter, almond butter, or sunflower seed butter. Some kids have a savory tooth, and for them, you can suggest homemade cooked beans in tomato sauce (or low-sugar added if ready-made) or vegan butter and marmite – a great source of iron too!
Fruits – banana slices, blueberries, raspberries.
Vegetable – cooked avocado, spinach, tomatoes, or cucumber slices.
#4 – Cereals and non-dairy milk
Cereals have bad reputations, but they shouldn't! Not all cereals are the same, and plenty of cereal brands are healthy for kid's breakfasts. To select healthy vegan kid-friendly cereals, look at the nutrition panel and ingredient list and look for:
Fortified in iron and vitamins – this is a great thing if your kids are picky eaters at mealtime. These cereals provide important nutrients like calcium, iron, and vitamins.
Low sugar – less than 25g per 100 gram for school kids and preferably less than 10g per 100 grams for toddlers. Also, check the ingredients list to see which sweetener is used. Liquid fructose is not healthy, but some unrefined sweeteners are way better, like honey, maple syrup, coconut sugar, or date puree. These sweeteners add nutrients.
Fiber – the more fiber, the more fulfilling the cereals are!
Serve cereals with calcium-fortified non-dairy milk, or plain as a side to a piece of fruit and non-dairy yogurt.
#5 – Calcium-fortified dairy-free yogurt with fruit and granola
As for cereals, look for low-sugar granola brands or sweetened with unrefined sugar. Serve on top of calcium-fortified soy yogurt or plant-based yogurt they love, with or without fruits like blueberries or strawberries.
#6- Chickpea Omelette
Chickpea flour makes a quick delicious vegan omelette, and it's full of protein. Serve the vegan omelette with a piece of wholemeal bread and vegetables like avocado or tomatoes.
#7- Chia Pudding
Chia seeds are high in protein, fiber, healthy fat, and calcium. They are a healthy vegan breakfast addition to a kid's plate. Try my banana chia pudding recipe for kids in the morning.
#8- Overnight Oats
Overnight oats are basically no-bake porridge. It's an easy breakfast to make ahead and scoop in the kid's bowl in the morning. To make a plain large batch of overnight oats, try this coconut overnight oats recipe.
You can also make:
#9 – Vegan Cookies and Bars
Kids love breakfast cookies. They are handy, nourishing, and packed with kid-friendly protein for a healthy vegan kid's breakfast on the go. Try some of the vegan kid cookie recipes below:
#10 – English Muffins
There are plenty of healthy vegan-friendly English muffins at the grocery store, or you can make yours following my vegan English muffin recipe. Serve them with nut butter, kid chia seed jam, or maple syrup.
#11- Kids Breakfast Smoothies
Smoothies are also healthy breakfast ideas for kids! A healthy breakfast smoothie for kids should contain cereals like old-fashioned rolled oats, proteins, fruits, milk, and sometimes vegetables.
Try some of the vegan kid-friendly smoothies below for breakfast:
#12 – Waffles
Make my vegan waffles for kids breakfast and top it with fruits and nut butter.
#13 – Pancakes
There are so many healthy vegan kid pancake recipes you can offer for breakfast. Try some of the vegan pancake recipes below:
#14 – No-bake cookies and granola bars
Raw oatmeal cookies and raw bars are the best way to fuel your body in the morning. Raw baking preserves all the nutrients from cereals, nut butter, and nuts. Try some of these healthy raw breakfasts.
#15 Scones And Bread
A great way to meal prep a week of breakfast for kids is to bake a large loaf, like banana bread, or make scones. Try some of these vegan recipes to make your kids happy!